Government of Alberta COVID 19 Update
---
---
---
Go to alberta.ca/covid19 for the most up-to-date information on restrictions to contain COVID-19.
Update April 9th
Government of Alberta Update
Youth and Collegiate Sport and Recreation Activities:
Safety Requirements

Maximum of 10 total individuals, including all coaches, trainers, and participants

Indoor and outdoor playing surfaces (for example, arena, field, court or swimming pool) may be occupied by more than one youth group, as long as 3-metres of physical distancing can be maintained between groups of 10 and the groups do not intermingle.

Physical distancing must be maintained between participants at all times:

3 metres physical distance for indoor activities
2 metres physical distance for outdoor activities
Coaches or trainers may enter physical distancing space for brief interactions with participants (for example, to correct form or technique)

Participants must be masked at all times, except during high intensity physical activity. Coaches and trainers must remain masked at all times.
Access to change rooms must be limited, including accelerated arrival and departure, emergencies (for example, first aid) and washroom use.
We appreciate everyone's efforts to date in following the provincial guidelines. Lets continue to work together to ensure a safe return to play. We will continue to provide updates as soon as new information becomes available.
---
April 7th
During Government of Alberta announcement today, there were no changes made to the existing guidelines in place for Youth Sports.
To see full details from todays announcement, refer to the April 6th Update link here.
Please note: Only one youth group can occupy an indoor playing surface at a time (for example, arenas, fields, courts or pools)
Eligible participants include:
youth 18 years old and under
members of a collegiate or university athletic program
coaches or trainers
Limited group physical activities allowed Lessons, practices and physical conditioning activities are allowed for indoor and outdoor minor sports/activities and school athletics (for example, school sport activities that are outside of a physical education class or related part of the school curriculum).
ABA will continue to provide updates as soon as new information becomes available.
---
March 1st
Today the Government of Alberta announced that the province would begin to move cautiously into Step 2 of Alberta's 4 Step Path Forward.
At this time there have been no changes made to the existing guidelines in place as of February 8 for Children Sports.
Please refer to the February 16th and 19th updates below.
ABA will continue to provide updates as soon as new information becomes available.
---
February 19th
Click Here to Read the Updated SPAR Document that aligns with Step 1 of the Government of Alberta Guidance.
Step 1-4 of the Government of Alberta "Path Forward" plan
---
February 16th
Participants should be encouraged to bring their own equipment.
Any shared equipment should be cleaned and sanitized at an increased frequency, and between each use.
Where equipment is rented, operators should clean and disinfect between each use.
Hands should be cleaned before and after using sporting gloves.
Sporting gloves should be cleaned after each use.
Discontinue use of equipment that is in disrepair, as these items cannot be effectively sanitized.
Wherever possible, limit the use of shared equipment unless participants engaged in the same activity are from the same household.
Participant-owned equipment, including sport gloves, should be visibly clean.
Equipment handled by hand or head (e.g., tennis balls, basketballs, soccer balls) during play should be frequently cleaned.
Do not use equipment that cannot be disinfected.
Have processes to ensure enhanced cleaning and disinfection of shared fitness equipment between each use by having readily available supplies and cleaning reminders and instructions located in accessible places.
Facility staff should ensure that cleaning occurs between uses.
---
February 6th
Step 1 - Re-Opening Guidelines
As of February 6, 2021, Alberta Basketball has been made aware of the following changes brought forward by the Government of Alberta regarding limited school and minor team sport training activities.
Starting Feb. 8, children and youth will be allowed to participate in lessons, practices and conditioning activities for indoor and outdoor team-based minor sports and athletics. All games continue to be prohibited.
Limited school and minor sport training will be allowed under Step 1 of Alberta's four step framework to carefully ease restrictions as pressure on the health system declines.
https://www.alberta.ca/release.cfm?xID=77225B0650E32-DAD2-724A-B0042CC256FF5DF4
https://www.alberta.ca/enhanced-public-health-measures.aspx
---
January 29th
On Jan 29th, the Government of Alberta introduced the hospitalization benchmarks. These steps and benchmarks will provide a transparent approach to easing restrictions for businesses and individuals while protecting the health-care system.
Each step has an associated benchmark of hospitalized COVID-19 patients, including intensive care patients. Changes to restrictions will be considered once a benchmark is reached.
The hospitalization benchmarks are:
Step 1 - 600 and declining
Step 2 - 450 and declining
Step 3 - 300 and declining
Step 4 - 150 and declining
With hospitalizations dipping below 600, Alberta will move to Step 1 on Feb. 8.
For more information please Click Here
---
January 14th
---
January 7th
Enhanced public health measures will remain in place provincewide until at least Jan. 21.
Health officials continue to actively evaluate the situation and will adjust measures if required.
Businesses, organizations and service providers will be given at least one week's notice prior to changes to the current health measures that may affect them.
---
December 8th
New provincewide restrictions announced to slow the spread of COVID-19
In response to increasing case numbers, Alberta has announced new restrictions.
Effective immediately, mandatory provincewide measures on social gatherings and masking are in effect.
Effective 12:01 a.m. on Dec. 13, additional restrictions will come into effect including business closures and restrictions on other services, retail businesses and attendance at places of worship.
These mandatory restrictions apply provincewide and will be in place for at least four weeks.
All existing guidance and legal orders remain in place, including closures previously required on Nov. 27.
Alberta Health, AHS and local municipalities continue to closely monitor the spread across the province.
Enforcement of public health measures
The government has granted certain Alberta peace officers and community peace officers temporary authority to enforce public health orders.
Expanding these authorities increases the number of officers able to levy fines by about 700.
Not following mandatory restrictions could result in fines of $1,000 per ticketed offence and up to $100,000 through the courts.
All basketball training is restricted provincewide.
---
December 3rd
During Tuesday night's Town Hall with Dr. Hinshaw, Minister Schweitzer, and Parliament Secretary Martin Lang; Dr. Hinshaw confirmed that one-to-one indoor training between a coach and an athlete could take place as long as a three metre distance is maintained. ABA recommends that that there is only one training group of 1:1 at each end basket; no more than two training groups per court - Please see the example diagram below
All enhanced public health measures would need to be followed at all times.
In addition:
Participants should bring their own equipment such as basketballs, water bottles (filled at home), towel, sanitization products, any necessary medical supplies.
No sharing of any equipment
Masks are to be worn by coach and athlete at all times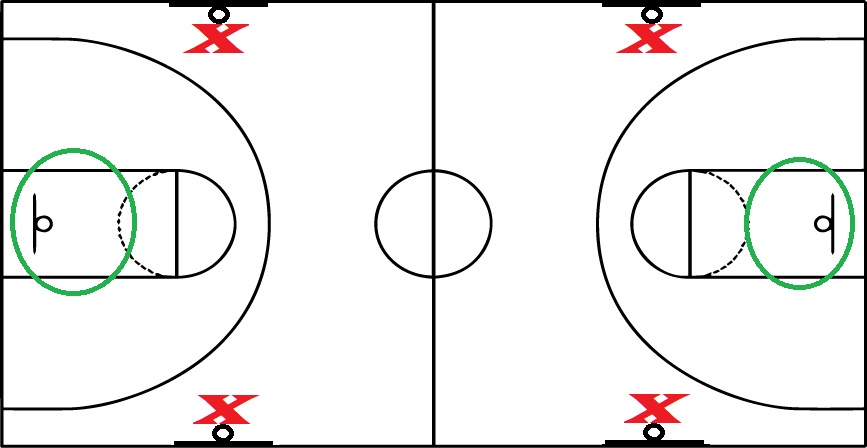 ---
November 30th
Alberta declared a State of Public Health Emergency to protect the health care system from COVID-19. Indoor social gatherings are the top source of transmission. All indoor social gatherings have been banned. This ban will be enforced with $1,000 fines.
Group physical activities include team sports, fitness classes and training sessions.

Indoor group physical activities are prohibited unless:

the group only involves members of the same household.
the activity involves students at a school or post-secondary institution as part of an education program
the activity involves students at a post-secondary institution
One-to-one indoor training, such as training with a fitness trainer or coach, is permitted.
Outdoor group physical activity is limited to 10 people or fewer.